For the second time during the 2022/23 A-League Men season, Melbourne City FC's Jamie Maclaren has won the Austraffic PFA Player of the Month, securing the accolade for his record-breaking exploits in April.
Maclaren was revealed as the winner of the April award at a special unveiling of a mural at Richmond Station in the heart of Melbourne's iconic sporting precinct.
Maclaren became the most prolific scorer in A-League history in April with his 143rd competition goal, breaking the A-League scoring record of 142 goals previously held by Besart Berisha.
In April Maclaren scored on six occasions, including a hat trick against Western United – the match in which he set the new A-Leagues record.
The mural was painted by Maclaren's club colleague, Melbourne City FC's New Zealand striker Hannah Wilkinson, who utilised her creative skills to celebrate Maclaren as the A-Leagues' greatest goalscorer in the heart of Richmond.
Maclaren edged out Western Sydney Wanderers' Brandon Borello, Central Coast Mariners' duo Marco Túlio and Sam Silvera and Sydney FC's Robert Mak.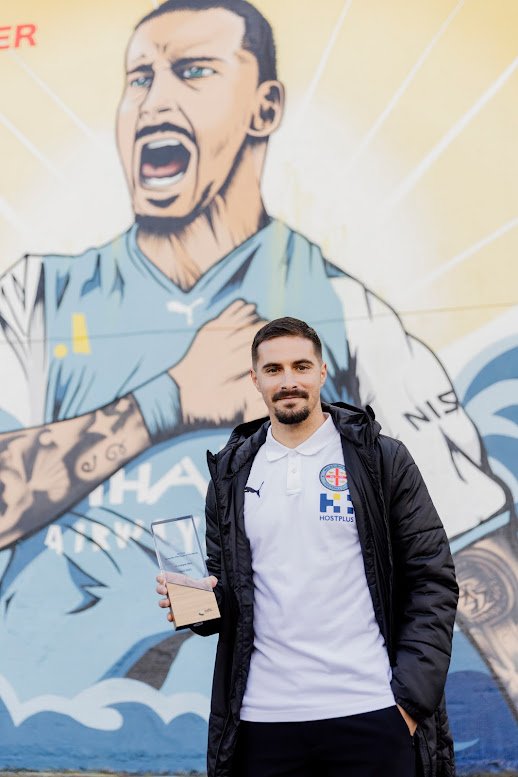 "It's special [winning the Player of the Month]. In a way I didn't expect it. I had a rough few weeks when I broke my toe, and went a few games without goals. 
"But you ride the wave [and] a few question marks. When I scored the hat-trick to break the record and then score a couple more goals, it was special for me.
"There were some fantastic names nominated and in my opinion they were more deserving of the award. But you get voted by the guys you play against and the guys you play with, so in the players' eyes that's the most special thing.
"It is an honour to feature on this mural at such a famous Melbourne location. I was born and bred in this city and have attended many sporting events around there so this is really special.
"When I signed for Melbourne City in 2019 I had ambitions of breaking records. I acknowledge Besart Berisha, who held the record before me. Now I am focused on winning another trophy with Melbourne City in the A-League Men's finals series."
Melbourne City FC forward Wilkinson said she was 'stoked' with the presentation of her artwork of Maclaren.
"I'm stoked to get the opportunity to design this mural for 'Macca'. I've drawn and been a creative since before I started kicking a ball. It's always something I'm doing outside of football. So to combine the two, for a club I love, is amazing.
"He broke the record in style, with a hat-trick. The photo is awesome. I do comic-style drawings and I wanted to really capture his expression, the energy and his excitement, and I wanted to have a light colour to bring him out. It was super fun to draw."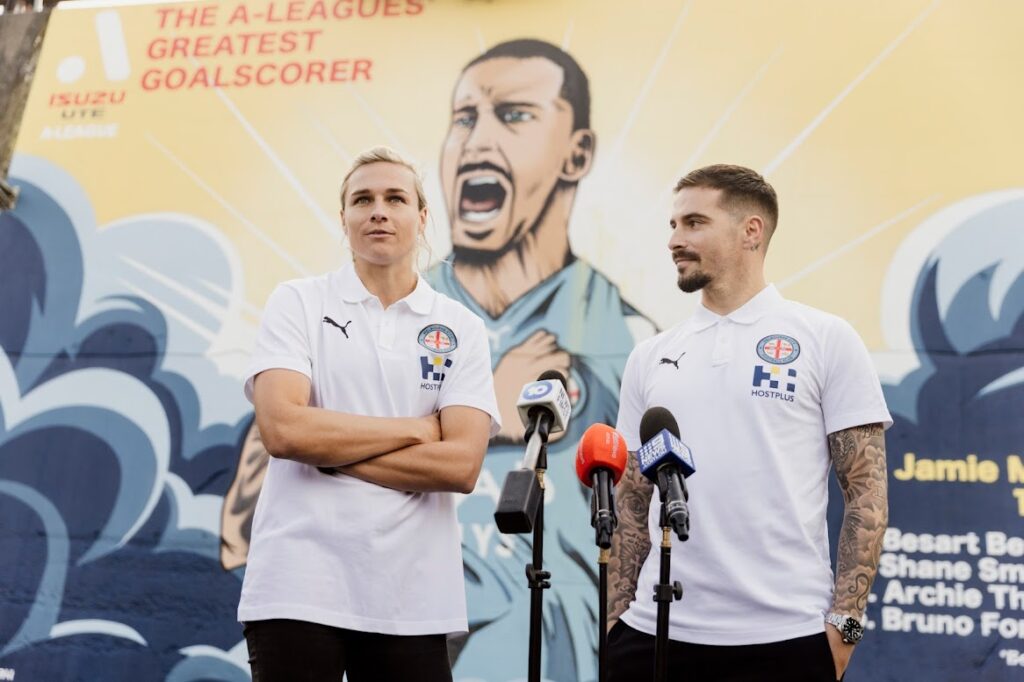 Maclaren had previously won the Austraffic PFA Player of the Month for his form following the 2022 FIFA World Cup, in November and December.
Austraffic is proud to support the PFA.
This article first appeared on https://pfa.net.au/news/austraffic-potm-record-breaking-goal-scorer-revealed-as-april-winner/