Blood Borne Infections
Bloodborne infections such as Hepatitis and Human Immuno Deficiency Virus (HIV) are part of our everyday life although relatively uncommon.
Confidentiality
If a worker infected with any blood-borne infection informs another person of their status, that information is to be held in the strictest confidence unless the worker authorises its release.
Workers with any bloodborne infection are entitled to the same rights, benefits and opportunities as workers with any other illness or injury.
Equal employment opportunity, anti-discrimination and Workplace Health and Safety legislation applies and will be upheld in all instances.
Infection Control Procedures
The best way to prevent transmission of infections is to consider all bodily fluids as potentially infectious.
The following basic hygiene procedures are to be implemented following an at-risk incident (eg. skin breakage/injury (with external bleeding) etc.) and prior to providing first aid:
put on single-use gloves if not already wearing them
prevent bleeding by applying pressure to the wound until it stops, using a dry sterile single-use dressing
apply an additional dressing, bandage very firmly if bleeding continues, and call for medical assistance
handle both the dressing and the contaminated implement carefully to avoid coming into contact with blood or body fluids/substances from the person being treated or the instrument
place contaminated dressings or swabs in a plastic bag (tie-up/seal the bag) before disposing of them in a general waste bin
thoroughly wash hands with soap and hot water after treating wounds or handling contaminated dressings, then pat dry with a paper towel
discard single-use instruments into a plastic bag (tie-up/seal the bag) and then into a general waste bin
document the incident and all actions taken on the Austraffic Intranet (Notify, Injury) or on RM43 Injury Notification Form
Corona Virus (COVID-19)
Source: How to Protect Yourself and The People You Are Caring For From Infection with COVID-19 (e-learning module COVID-19 Infection Control Training, Dept Health, Aus Gov)
COVID-19: Background
Coronaviruses are a family of viruses that can make humans sick
The new coronavirus disease, officially known as COVID-19, originated in China in 2019 and has since spread around the world
Most people, around 80% who become infected with COVID-19, will experience only mild symptoms and fully recover without any special treatment
Some people, 15% of those who become infected with COVID-19, will experience moderate symptoms
A small number of people who become infected with COVID-19, approximately 5%, may experience severe symptoms and get very sick
COVID-19 Signs and Symptoms
The most common symptoms of COVID-19 are:
fever
flu-like symptoms such as coughing, sore throat and fatigue
shortness of breath
loss of sense of smell or taste (1).
Not everyone who has symptoms like these has COVID-19 as there are several other illnesses that can cause these symptoms
Higher Risk Population
Some people at higher risk for developing serious illness from COVID-19 including:
older people
those with underlying medical problems including high blood pressure, heart problems, diabetes, respiratory disease or immune deficiencies (low immunity).
experience higher rates of chronic diseases compared to other Australians and may be at higher risk of serious illness
COVID-19; Who can catch it?
Anybody can be infected
COVID-19 does not discriminate between race nor gender, therefore, we are all at risk of infection
We all need to be safe
There are important things that we can do to protect ourselves, our family and those in our care
How does COVID-19 spread?

COVID-19 spreads from person to person through droplet transmission
Droplets are small pieces of saliva, which are produced when a person coughs or sneezes

Droplets usually travel no further than one metre through the air

You can become infected if:

you have close contact with an infected person who coughs or sneezes
you touch an object (e.g. door handle) contaminated from a cough or sneeze from a person with COVID-19 and touch your eyes, nose or mouth.

Droplets cannot go through skin and can only lead to infection if they touch your mouth, nose or eyes
Stop the spread…. We are all responsible, it's a group effort
It is important that everyone helps to prevent the spread of COVID-19
Encourage standard precautions amongst co-workers, family, friends, people you care for and any visitors
Lead by example
Purchase supplies to help limit infection, for example, alcohol sanitisers and soap.
Provide and promote sanitisers for use on entering buildings.
Increase routine environmental cleaning.
Clean and disinfect high touch surfaces regularly, including desks, keyboards and change room surfaces.
In toilets/washrooms, do not share items like towels and soap bars, and wash your hands after changing.
Open windows, enhance airflow, adjust the air conditioning.
Handwashing
The most important thing you can do to protect yourself is to wash your hands regularly with soap and water or rubbing an alcohol-based sanitiser onto your hands
This is important because washing your hands kills viruses that may be on your hands
Watch these videos to see how you wash your hands and this video to show you how to use hand sanitiser
Proper Hand Washing and  Technique
Source: World Health Organisation, Guidelines, Hand Wash and Hand Rub Poster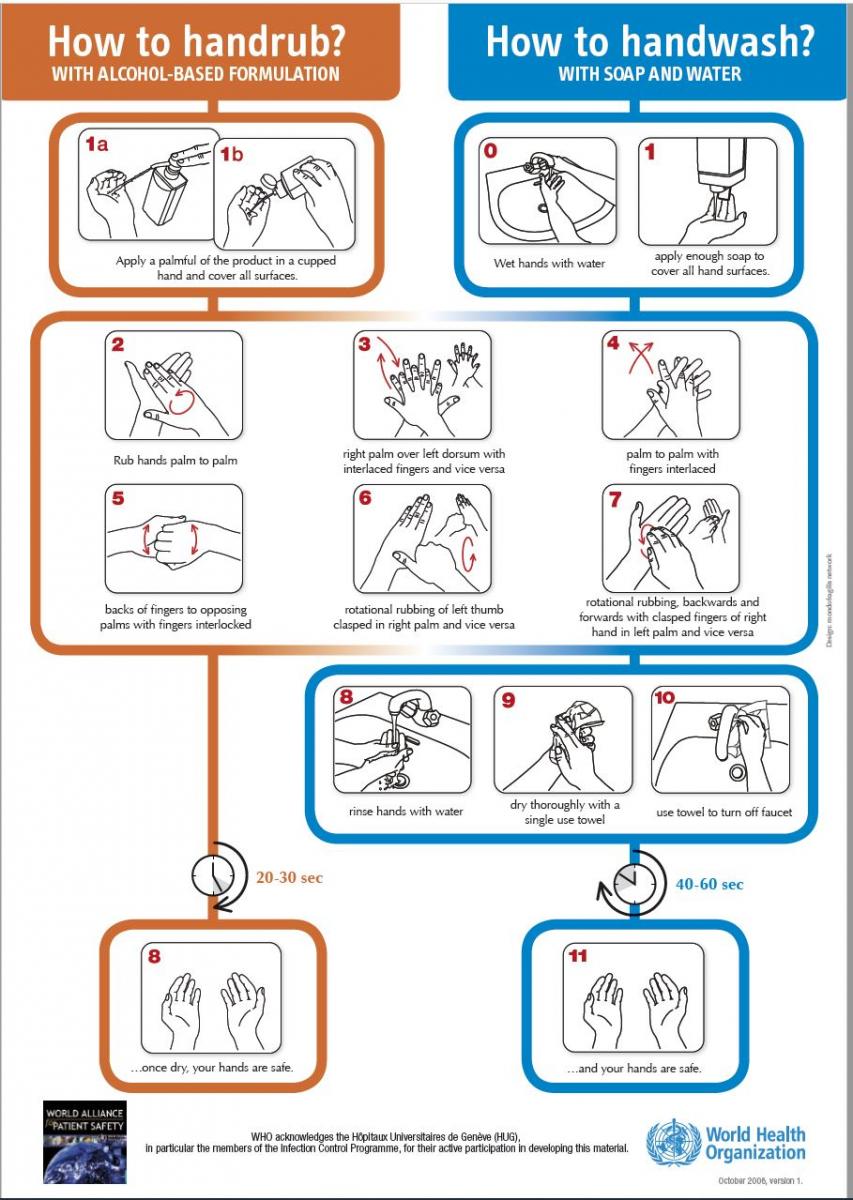 Try not to touch your face
Avoid touching your face as much as possible
This is important because virus containing droplets on your hands can be transferred to your eyes, mouth or nose where they can infect you
Most of us touch our face many times per hour without realising
Try to stop yourself touching your face, and encourage others to do the same
Social distancing
Maintain at least 1.5 metres distance between yourself and anyone who is coughing or sneezing
This is important because if you are too close to someone you might breathe in droplets they cough or sneeze
If you are further away than 1.5 metres, it is very unlikely that you will breathe in droplets that might contain COVID-19
Help those that you care for by keeping 1.5 metres between themselves and others
This is especially important if you're out and about
Avoid large public gatherings, unless essential
Remember that COVID-19 can be transmitted by droplets that can be passed from hand to hand including handshakes
Here are some videos on other ways to greet people https://www.youtube.com/watch?v=aP2xcQKkzZI
Cancel non-essential activities such as domestic business travel, study visits, extra-curricular activities and sporting events.
In an enclosed space there should be on average no more than one person per four square metres of floor space.
Encourage flexible working arrangements including working from home and off-peak travel.
Where possible, avoid large indoor meetings and lunchrooms and use outdoor venues.
Use good respiratory hygiene
Make sure you and the people around you follow good respiratory hygiene. This means covering your mouth and nose when you cough and/or sneeze with:

a tissue that you put in the bin straight after use
your bent elbow
respiratory hygiene is important because droplets spread virus. By following good respiratory hygiene you 'catch' any droplets that might be produced, and this protects the people around you from viruses including COVID-19.

Remind those in your care to use good respiratory hygiene
Make sure that when you are out and about you carry tissues for yourself and others to use
Remind those in your care to clean their hands after coughing or sneezing
What about masks?
Wearing a facemask in public won't help to protect you from infection
Only wear a mask if you are sick with symptoms that might be due to COVID-19 (especially coughing) or looking after someone who may have COVID-19
There is a shortage of masks and we need to save them for use when they are needed for sick people or for those looking after them
Remember the best ways to protect yourself and others against COVID-19 are:

regularly wash your hands
use respiratory etiquette to catch your cough or sneeze with a tissue or in the bend of your elbow
maintain social distancing.
Cleaning and disinfection
Regular cleaning of your environment, at home, in your car and at work is essential
This is because droplets from an infected person can fall on a surface, and be transferred to someone else's hands if they touch the surface
You should regularly clean frequently touched surfaces, for example, tables, doorknobs, light switches
To clean use a detergent solution according to the manufacturer's label
Remember to check the product label for any precautions you should take when using it, such as wearing gloves or making sure you have good ventilation
What if I develop symptoms of COVID-19?
If you develop symptoms such as fever, dry cough, sore throat and fatigue, you should:
stay at home and practice standard infection control precautions
seek medical advice, it is important to call ahead first:

go to https://www.healthdirect.gov.au/coronavirus or the health service for your state (see links below under Further Information)
call the National Coronavirus Information and Triage Line (1800 020 080); or
call your usual care provider

inform your Austraffic supervisor or Manager IMMEDIATELY via phone or email. Do not attend any Austraffic worksite either office or in-field.
if you feel unwell during work hours, please notify your supervisor or manager immediately (maintain distance of 1.5 metres, else via phone or email). Seek medical advice and adhere to any quarantine or self-isolation periods as directed a medical professional and in line with DHHS guidelines
What if someone in my care develops symptoms of COVID-19?
If someone in your care has symptoms of COVID-19, you should:

keep them at home, or if they are in a group facility keep them isolated in their own room
ensure they practice standard infection control precautions and seek medical advice promptly, remember to call ahead first.

If someone in your care is suspected by a medical professional as having COVID-19 then you will need to practice further infection control measures including use of appropriate personal protective equipment (PPE)
You will need to seek further advice on this from your local public health unit or infection control specialist
Key messages for COVID-19
You can help protect yourself, your family, your workplace and your community
Practice regular hand hygiene
Practice social distancing
Practice respiratory etiquette
Seek medical advice, remember to call first, and inform your workplace if you have symptoms
For further information go to