Congratulations to Melbourne City FC's duo Rhianna Pollicina and Mathew Leckie who have been voted by their A-Leagues peers as the Austraffic Players of the Month for February.
The pair registered impressive months in the A-League Women and Men's competitions, with January's PFA Player of the Month Pollicina continuing her excellent season form and Mathew Leckie enjoying a fruitful month in front of goal in February.
Pollicina became the first player this season to win back-to-back Austraffic accolades, with her contribution in February helping City secure three wins in four matches.
Ahead of a huge Melbourne Derby semi-final in the A-League Women's finals series this Sunday, Pollicina said she was delighted to be recognised by her peers as the competition's most outstanding player for the second month running.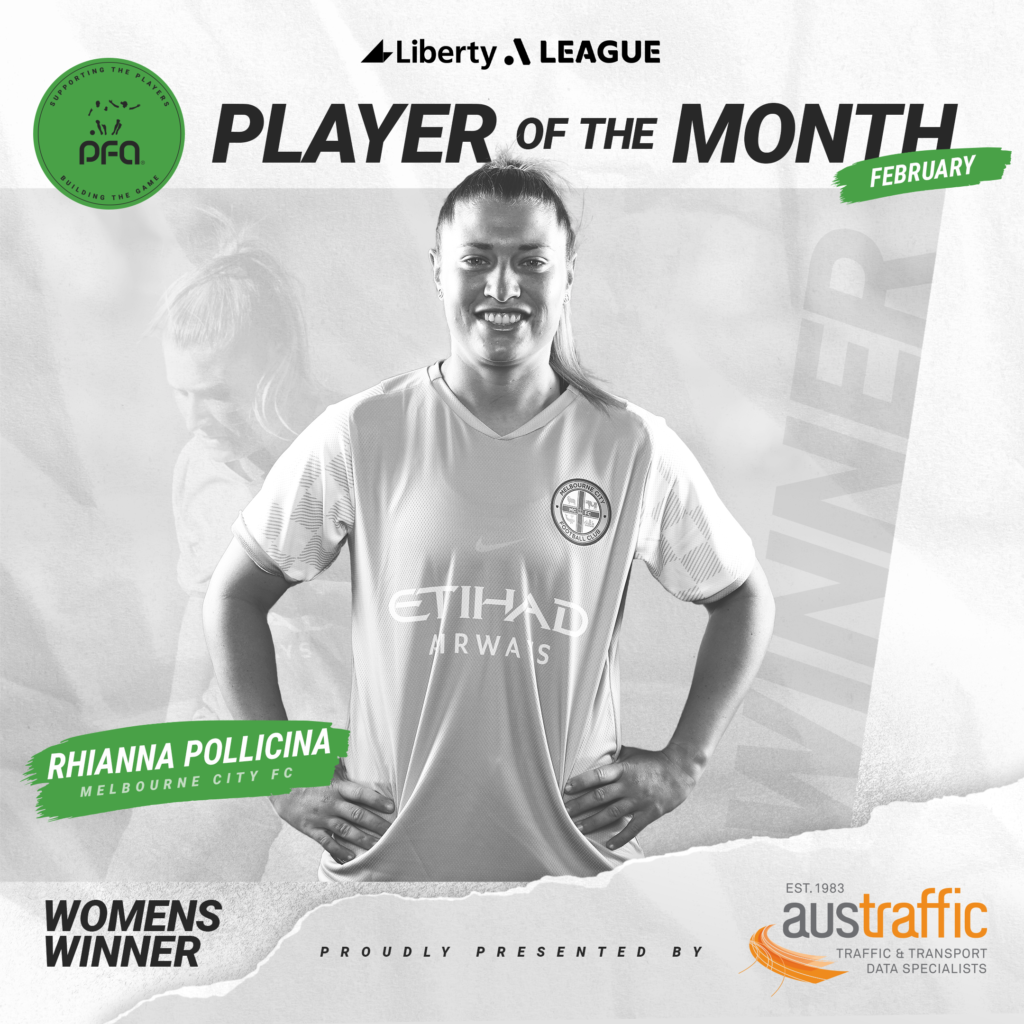 "I'm feeling very honoured and grateful for everyone supporting me, but it's a massive credit to my teammates and the staff at City," Pollicina said.
"I'm just really enjoying my football. I'm in a good environment, I've got good teammates, I've got staff who back me as a player and that's just making me play my game and credit to my teammates making me smile on and off the field.
Pollicina said it was a surprise to finish the player vote ahead of fellow nominees – Adelaide United's Fiona Worts and Sydney FC's Mackenzie Hawksby – but that made winning the award extra special.
"It definitely feels special – those two girls are quality players and have been big assets for their teams so credit goes to them, they've stepped up in the games that they've played. I'm just feeling honoured to be playing some good football.
"[This season] has been a hell of a ride, but we have a big game this weekend and hopefully that can get us to the big dance."
Mathew Leckie enjoyed his best month in City Blue this season during February, scoring five goals in six games to help deliver City five wins, and his form earned him the Austraffic award ahead of Wellington Phoenix's Reno Piscopo and Western United's Aleksander Prijović.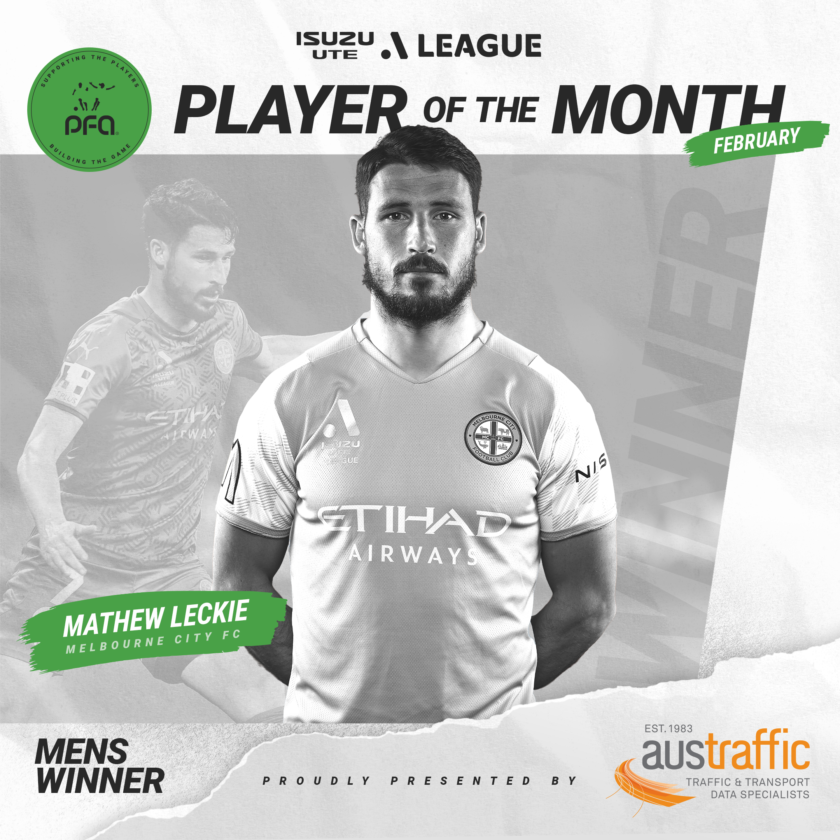 "February was a good month for me and in particular getting on the scoresheet – that's why I'm here," Leckie said.
"It's nice to get the recognition, but the most important thing is to contribute to the team and try to do my best for the team on the pitch.
"I have to thank the team and the club. It's important to contribute on the pitch and I've been able to do that for the last few weeks and score some goals and put up some good performances. It's obviously a team sport and without the team around you it's not possible."
The Austraffic PFA Player of the Month is the only player-voted award in the A-Leagues. After each month of A-Leagues action, a PFA Nominations Committee, consisting of football media personalities and former players, provide nominees for the PFA membership to vote on. Austraffic is a proud partner in presenting these awards.
This article originally appeared on http://pfa.net.au/pfa-player-of-the-month/potm-city-duo-score-austraffic-a-leagues-awards/